By Ben Tobias & Alys DaviesBBC News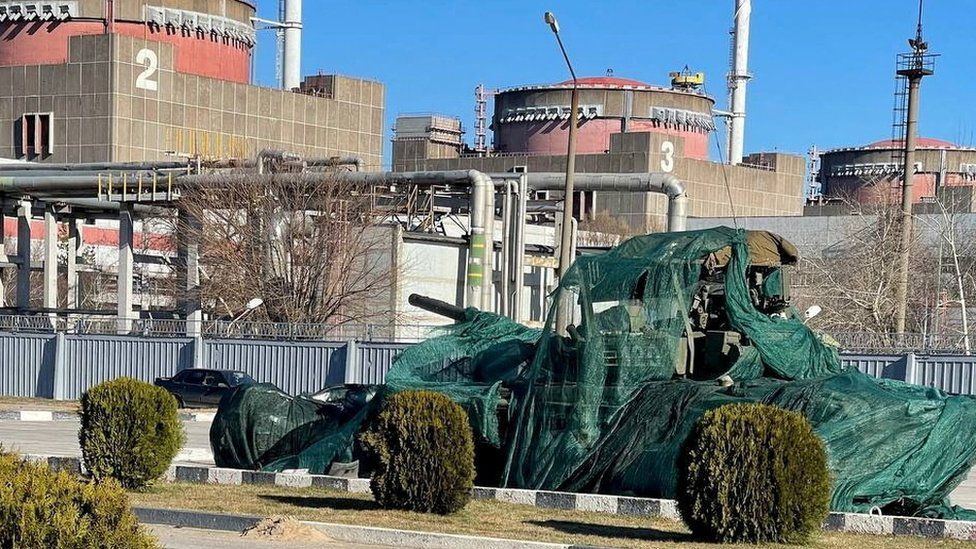 Russian forces at Europe's largest nuclear power plant in Ukraine are employing "terror tactics" by using the site to launch rocket attacks on civilians, the BBC has been told.
"Every morning we wake up and see that they have hit only residential homes," a local businessman told us.
Russia controls the Zaporizhzhia plant and surrounding areas, close to Ukrainian-held territory.
Western officials have sounded the alarm about Russia's tactics there.
The Zaporizhzhia nuclear plant lies in the south-east of Ukraine along the eastern bank of the Dnipro river. It is currently still being operated by Ukrainian employees under Russian supervision.
It consists of six pressurised water reactors and stores radioactive waste.
In its daily intelligence update, the UK defence ministry said Russia was using the area to launch attacks – taking advantage of the "protected status" of the nuclear power plant to reduce the risk of overnight attacks from Ukrainian forces.
The head of the UN's nuclear agency, Rafael Grossi, warned this week that the plant was "completely out of control".
A Russian-installed official in the region told Reuters news agency that Ukrainian forces are using Western-supplied weapons to attack the plant.
Any accident at the power station could have catastrophic consequences.
The assessment reflects the views of civilians in nearby Nikopol, which lies across the Dnipro river and is still under Ukrainian control.
"Our forces don't shoot back because the 30km zone around the power station is sacred. You don't want to shoot there. But the Russians are terrorists. There's nothing sacred to them," the local businessman, who did not want to be named, told the BBC.
"It's meant to scare us," he continued, explaining that rockets have hit Nikopol every night since the middle of July.
A former employee of the plant, who is still in contact with colleagues but is now in Ukrainian territory, told the BBC that as well as firing rockets from the area around the plant, Russian forces had moved some military hardware into one of the main buildings.
The BBC can't verify the claim, but Ukraine's atomic energy agency has reported the same thing.
The UN's nuclear watchdog has warned several times about the difficult conditions for staff working at the power plant, and wants access to inspect the site.
The former employee, who worked at the plant for several weeks under Russian occupation before leaving, said the Russian soldiers in charge of the plant generally left the workers alone, but their presence caused psychological difficulties.
Many employees are unable to leave the occupied area because "they are afraid of losing their salaries, afraid to leave their relatives, or afraid of the Russians taking over their homes after they go".
More on this story
Related Topics