By Leo Sands & Yaroslav LukovBBC News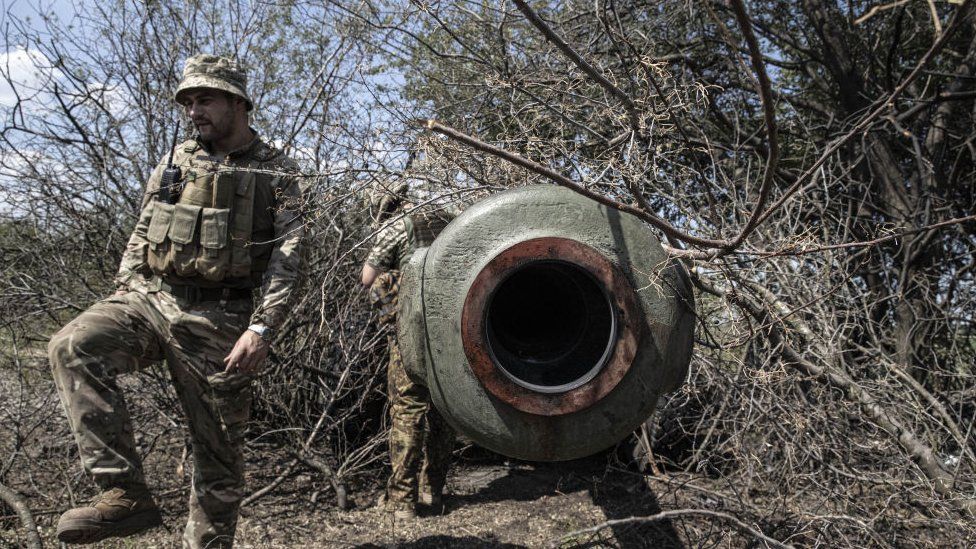 Ukraine's military claims to have broken through Russia's first line of defence in the occupied Kherson region.
The reported push appears to form part of a long-awaited offensive being launched by Kyiv in an attempt to retake the country's south.
It follows weeks of Ukrainian attacks aimed at cutting off Russian forces there from main supply routes.
Russia's military has not commented on Ukraine's claim, but one official said this was "yet another fake".
"Ukrainian formations are suffering severe losses both in the south and in all other directions," said Sergei Aksyonov, the Moscow-installed head of Crimea – Ukraine's southern peninsula annexed by Russia in 2014.
The claims by both Ukraine and Russia have not been independently verified.
Russia has occupied large swathes of Ukraine's Kherson region since its invasion began on 24 February.
On Monday, Ukraine's Kakhovka operational group in the south said that one regiment of Russian-backed forces had left its positions in the Kherson region.
It added that Russian paratroopers providing the back-up had fled the battlefield.
Ukraine's Hromadske TV said three of its sources in Ukraine's military confirmed that the first line of defence had been broken.
Meanwhile, Ukrainian army spokeswoman Natalia Humeniuk said "any military operation requires 'silence' regime", urging Ukrainians to be patient.
"Our main efforts have been focused on destroying the enemy's ammunition storage bases. More than 10 of such bases were destroyed over the past week," she said.
But Ms Humeniuk refused to give any further details.
In a telegram post the Ukrainian military also claimed on Monday to have struck multiple targets in the region, including a factory in Beryslav and a Russian army post by the North Crimean Canal.
Kyiv officials claim to have used US-supplied Himars rocket systems to destroy three bridges crossing the Dnipro River, strikes it said would cut the Russian forces occupying Kherson off from weapons and troop reinforcements.
According to Western military sources, Kyiv's strikes on the river crossings are part of a targeted effort to isolate Russian troops on the right (western) bank of the river with the ultimate goal of recapturing the entire Kherson region.
Moscow relied on the bridges to resupply their troops stationed west of the Dnipro river, who are now at risk of becoming isolated from the rest of Russia's occupying forces.
Russian outlets also reported on Monday that Ukraine had struck targets in the Kherson region – but reported that the strikes had focused on civilian infrastructure.
Moscow-appointed regional official Vladimir Leontyev claimed on Monday that Ukrainian forces had shelled a hydropower plant and floodway in the Kherson city of Novaya Kakhovka, according to Russia's TASS news agency.
Its forces also claimed to have shot down three ballistic missiles and 21 rockets reportedly fired by Ukrainian forces.
Russia captured the city of Kherson and its surrounding region with relatively little resistance in the early days of the invasion.
The southern city, which had a population of 290,000 before the war, is the only regional capital to have been taken by Russian forces and is currently administered by Moscow-backed officials.
According to Russia's Tass news agency, officials in Kherson city have started moving forward with plans to hold a referendum on formally joining Russia, prompting accusations by the US that Russia could be preparing to illegally annex parts of occupied southern Ukraine.
Last month Russia said its military focus was no longer only on eastern Ukraine but on its southern regions of Kherson and Zaporizhzhia too.
In a separate development on Monday, Russian-installed officials in the Zaporizhzhia region claimed that a Ukrainian missile strike punched a hole in the roof of a fuel depot at the Zaporizhzhia nuclear power plant.
The claim has not been independently verified.
In recent weeks, both Ukraine and Russia have accused each other of shelling Europe's biggest nuclear station, which has been seized by Russia in early March. Moscow has kept Ukrainian personnel to operate the station.
Last week, Ukrainian President Volodymyr Zelensky said the world narrowly avoided a radiation accident at the plant, blaming Moscow's actions for this.
An inspection team from the UN nuclear watchdog is expected to arrive at the plant later this week, the organisation's head says.
You might also be interested in:
More on this story
Related Topics