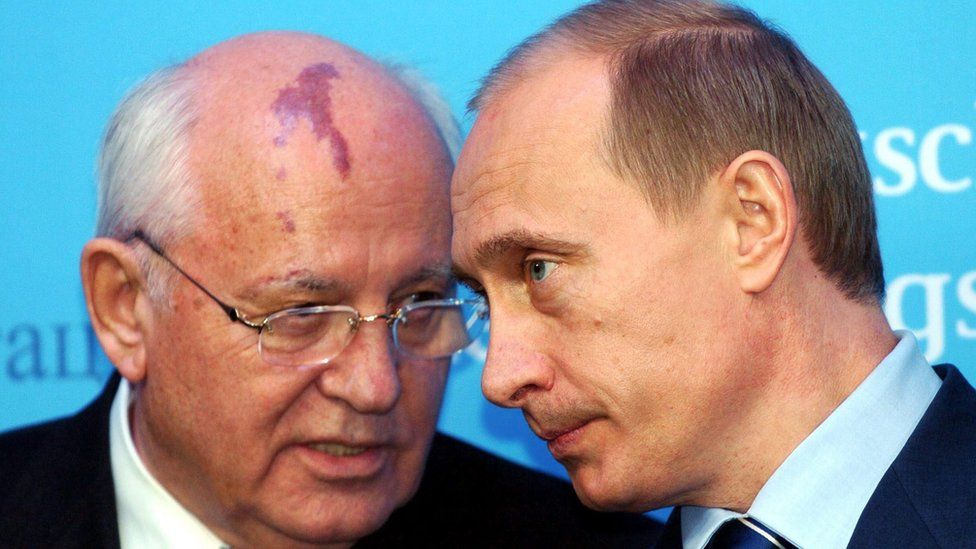 Russian President Vladimir Putin will not attend the funeral of Mikhail Gorbachev, the Soviet Union's last leader, the Kremlin has confirmed.
Spokesman Dmitry Peskov said Mr Putin's work schedule would not permit him to attend the event on Saturday.
He said the Russian leader had paid his respects at the Moscow hospital where Gorbachev died on Tuesday, aged 91.
Gorbachev's reforms helped end the Cold War, but saw the demise of the Soviet Union, which Mr Putin has lamented.
In 2005, the Russian president said the break-up of the USSR was "the greatest geopolitical catastrophe of the [20th] Century".
However, in his telegram of condolences to Gorbachev's family on Wednesday, Mr Putin struck a more conciliatory note, describing him as "a politician and statesman who had a huge impact on the course of world history".
On Thursday, Russian state television showed Mr Putin placing red roses beside Gorbachev's coffin in Moscow's Central Clinical Hospital.
"Unfortunately, the president's work schedule will not allow him to do this on 3 September, so he decided to do it today," Mr Peskov told reporters.
Gorbachev's funeral, which will be open to the public, will take place in Moscow's Hall of Columns.
Afterwards, he will be buried at the city's Novodevichy cemetery, next to his wife Raisa, who died in 1999.
Mr Peskov said Gorbachev's ceremony would have "elements" of a state funeral and that the state was helping to organise it.
Mr Putin will not be the only notable absentee from the funeral. Many of the foreign leaders who might have been expected to attend are currently barred from Russian soil, in retaliation for Western sanctions imposed because of Russia's invasion of Ukraine.
Top politicians from the US, UK, EU, Japan and Canada are among those on the exclusion list, including US President Joe Biden and UK Prime Minister Boris Johnson, as well as the two candidates vying to succeed him, Liz Truss and Rishi Sunak.
The Kremlin would say, what is all the fuss about? Vladimir Putin has expressed his condolences to Mikhail Gorbachev's family (in a brief telegram). He's also laid flowers at Gorbachev's open casket.
But, no, he won't be going to the funeral. The official reason: no space in his busy schedule. Diary full. That rather unconvincing explanation is fuelling speculation that, in reality, it's not that Putin has no time, but rather no desire to attend.
In other words, it's a snub. Why might that be? Well, for a start, to those in power in Russia today, Mikhail Gorbachev is viewed as having been a weak, indecisive leader who let a superpower – and Russia's global influence – slip away.
What's more, President Putin has been busy dismantling Mikhail Gorbachev's legacy. Gorbachev opened up the country, granted freedoms to his people and sought peace and friendship with Western nations. That's not President Putin's thing at all. He's been taking freedoms away, supressing democratic institutions and embracing the idea of confrontation with the West.
That – along with the invasion of Ukraine – is keeping President Putin very busy. No wonder his diary is full.
More on this story
Related Topics