By Merlyn ThomasBBC News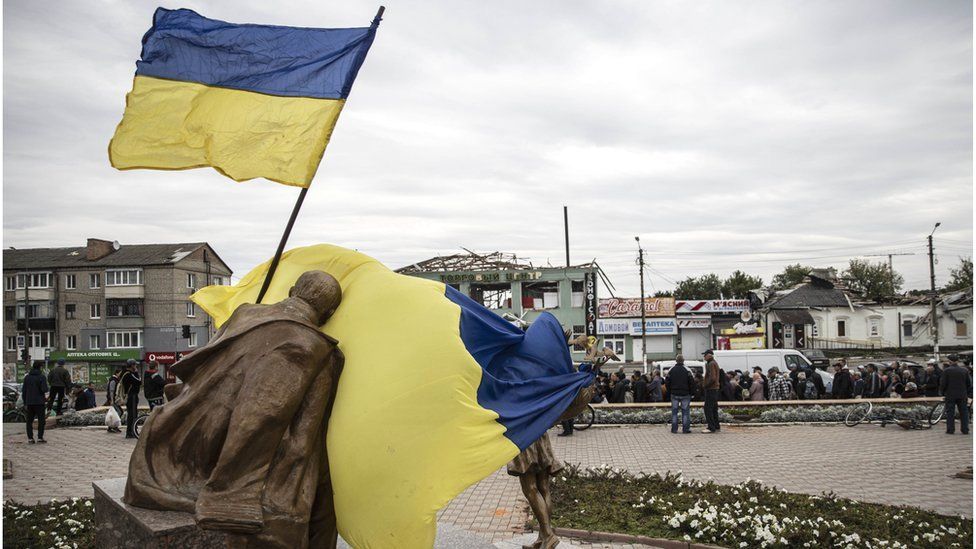 Ukrainian forces outnumbered Russians by eight to one in last week's counter-attack in the Kharkiv region, Russia's top occupation official there says.
Vitaly Ganchev told Russian TV Ukraine's army had taken villages in the north and broken through to the Russian border.
Ukraine says it has regained control over 3,000 sq km of (1,158 sq miles) of territory in a potential breakthrough in the six-month war.
The BBC cannot verify these figures.
The Ukrainian army says it took back 20 villages in the past 24 hours alone, in its continued counter-offensive in the north-east of the country.
UK defence officials say the Ukrainian army's successes will have "significant implications" for Russia's overall operational design.
Russia has been accused of targeting civilian infrastructure in revenge for setbacks on the battlefield.
Moscow struck back on Sunday with a wave of missile strikes across Ukraine, causing power cuts.
The blackouts reportedly affected millions of people in the Kharkiv and Donetsk regions. The Kharkiv city mayor says power is now restored.
Ihor Terekhov called it a vile and cynical attempt at revenge for the Ukrainian army's recent successes.
Ukraine's Defence Minister, Oleksii Reznikov, said the priority now was to secure the territorial gains made in a week of rapid advances in the Kharkiv region.
The Russian army appears to have abandoned large quantities of equipment and ammunition as it withdrew from areas it had held since the first weeks of the war.
A Russian battle-tank maker has switched to "round-the-clock" production after these setbacks, according to reports.
Workers at Uralvagonzavod in Nizhny Tagil, Russia's largest armoured vehicle manufacturer, have reportedly not been allowed to go on vacation due to the "production necessity".
More on this story
Related Topics