By Paul KirbyBBC News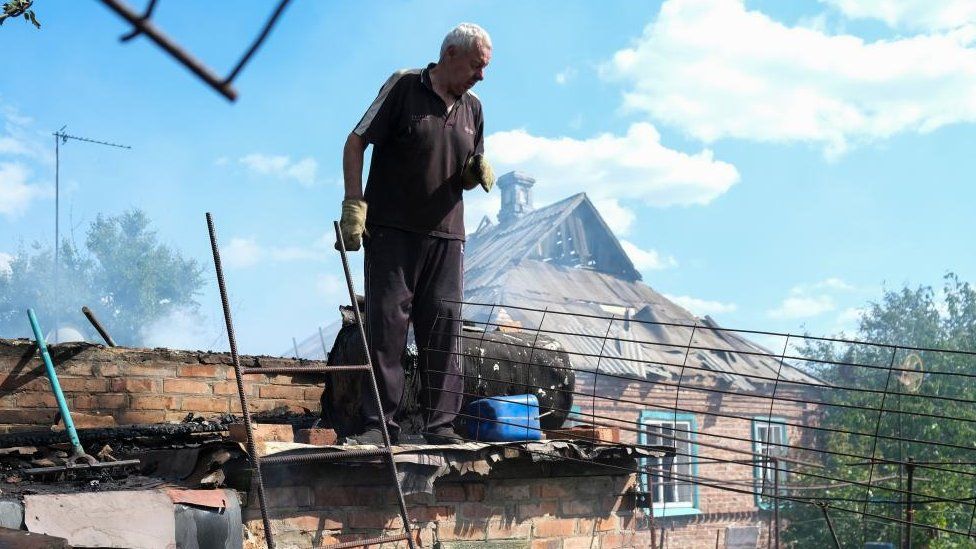 Almost seven months after Russia's invasion of Ukraine, areas under Moscow's control have announced plans for urgent so-called referendums on joining Russia.
Russia's invasion has stalled in recent months and Ukraine has recaptured swathes of territory in the north-east.
Now Russian-backed officials in the east and south say they want votes on annexation starting this week.
Russia annexed Crimea in 2014, after a vote widely condemned as a sham.
The international community has never recognised the annexation but it has long been clear that Russia intends to rubber-stamp its takeover of other occupied regions in the same way.
The deputy head of Russia's security council, Dmitry Medvedev, said early on Tuesday that holding votes in the eastern regions of Donetsk and Luhansk – also known as Donbas – would correct "historical justice" and be irreversible: "After the amendments to the constitution of our state, no future leader of Russia, no official will be able to reverse these decisions."
Soon afterwards the two breakaway Russian-backed authorities in Donetsk and Luhansk said they would stage votes on 23-27 September. They were both recognised as independent by President Vladimir Putin three days before Russian troops invaded Ukraine from north, east and south.
Russian-installed officials in the southern region of Kherson said they would also hold a vote, and a similar declaration came from Russian-occupied areas of Zaporizhzhia.
For months, Russian-installed authorities have tried to organise self-styled referendums, but the continuing war has made holding them impractical. Ukraine's counter-offensives have made it harder still.
While most of Luhansk has been in Russian hands since July, on Monday, the Ukrainian leader in Luhansk announced that the army had recaptured the village of Bilohorivka.
Much of Donetsk remains under Ukrainian control, although Russia has seized the coastal strip along the Sea of Azov.
Although Russian forces quickly captured Kherson at the start of the war, Ukrainian forces have regained some territory and Russian-installed authorities have faced repeated attacks. Earlier attempts to hold a vote there were postponed.
Much of Zaporizhzhia is still under Ukrainian control, including the regional capital of the same name. Even though the 2014 vote in Crimea was widely rejected as illegal and boycotted by a large number of residents, Russia's military were in control of the peninsula.
Ukrainian forces are not far away from the city of Donetsk and on Monday the Russian-backed mayor accused them of shelling the city, killing at least 13 people.
Any attempt to further annex sovereign Ukrainian territory is bound to infuriate leaders in Kyiv and destroy any hope of a negotiated solution.
Ukrainian defence ministry adviser Oleksiy Koptyko suggested they were a "sign of hysteria" in Moscow. Respected Russian analyst Tatiana Stanovaya saw the latest move as an "unequivocal ultimatum" from Russia to Ukraine and the West, and that if they did not react appropriately Russia would fully mobilise its armed forces for war.
There have been growing calls from some quarters for full mobilisation of Russian forces. At present, Vladimir Putin has described the invasion as a "special military operation".
In a separate development, the lower house of Russia's parliament backed long sentences for crimes committed during military mobilisation or combat, including going absent without leave (AWOL), desertion and voluntary surrender.
In a sign that the Kremlin was preparing to back the so-called referendums, Russian Foreign Minister Sergei Lavrov said that from the start of the operation Russia had wanted residents to have the decision: "The whole current situation confirms that they want to be masters of their fate."
The change in mood comes only hours after Turkey's president said the Russian leader was looking for a way out of the war. "He is actually showing me that he's willing to end this as soon as possible," he told US network PBS.
He also said 200 "hostages" would soon be exchanged between the two sides. He gave no further detail of who would be included in such a prisoner swap.
President Volodymyr Zelensky said on Monday night "the occupiers are clearly in a panic".
More on this story
Related Topics